The Essence - biography
---
The Essence The Essence
---
The Essence are Hans: vocals & guitar, Mark: bass & keyboards and George: drums, an alternative, gothic rock/popband. Their unique sound varies from sheer power to dreamy ballads, ever changing, evolving, sometimes reminiscent of vintage Cure or a postmodern Pink Floyd. After four albums and a 'best of' album, musically the band matured way beyond their original aspirations. As a live band, The Essence built a strong reputation with their powerful, passionate and atmospheric concert performances.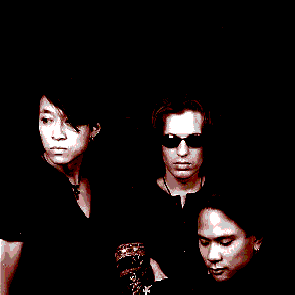 From left to right: Mark (bass & keyboards), Hans (vocals & guitar), George (drums)
Formed in 1984 in their highschool days, The Essence signed to Midnight Music after a year of gigging. In September 1985 the collaboration resulted in the release of their debut album "Purity" preceded by the 12" single "Endless Lakes", which were both received very well, especially in Holland and Germany. A track very popular with the radio- and club-DJ's was "The Cat", which was remixed and released as a second 12".
1987 saw the release of the follow-up album "A Monument of Trust" and the single "A Mirage", a catchy tune that made the top 10 in Spain. It was then, that The Essence started to tour Europe extensively, building up a strong and faithful following in, amongst others, France, Germany, Spain, Switzerland and the UK.
The popularity of the group continued to grow with the release of the third album "Ecstasy" in 1988. The videos of the singles "Only For You" and "Like Christ" (1990) got regular airplay on MTV. Until the end of 1990, the band successfully toured throughout Europe.
The group recorded their fourth CD "Nothing Lasts Forever", a powerful and dark concept album, released November 1991, which gave them a large following all around the world, amongst others Japan and the USA.
To close the first period, a "best of.." CD was released by Cherry Red Records in 1994 entitled "Dancing In The Rain", accompanied by the single "A Mirage '94 - The Mixes". The following year, a coverversion of "A Mirage" by Spanish group "Esquema" was again a hit in Spain.
1996 saw the release of the fifth studio-album 'Glow', on CNR international records, more than ever proving the original and international potential of the band. The years after that, the band started touring frequently playing Spain, Italy, Germany and the UK. The band also started to do outside projects on an individual basis, that varied from writing, producing to even playing with other bands. Also, collaborations with DJ's from over the world gave a new meaning to several of The Essence songs, amongst others Italian DJ Giancarlo Carone who did various remixes of "Only for You" in 2005 After a long period of silence, doing the occasional tour and home-based club gigs, 2006 brought the band from a four piece to three piece, creating a more basic sound. At this point, the band has written enough material to record a new album.
photography by KATO TAN, in assignment of CNR Music International for The Essence
essence@xs4all.nl
Home